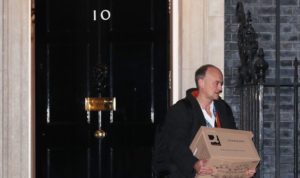 Dominic Cummings – a former close friend and ally of Boris Johnson – is suspected of leaking damaging texts about the Prime Minister.
The private messages were between Mr Johnson and billionaire inventor Sir James Dyson.
They were sent to the BBC's Political Editor Laura Kuenssberg.
The Times, Daily Telegraph and The Sun have all quoted unnamed sources in Number 10 claiming Mr Cummings was behind the leaking.
The Times reports: "Cummings is accused of leaking PM's texts. Johnson 'saddened by bitter former adviser'."
The Daily Telegraph's headline is:
"Cummings accused of leaking No 10 texts. Downing Street sources claim former chief adviser released PM's messages out of spite."
And The Sun's page-one is:
"PM accuses ex-adviser of leaks. Boris: Dom's a text maniac."
The messages between Mr Johnson and Sir James appeared to show Mr Johnson agreeing "to fix" a tax problem experienced by Dyson staff.
At the time the company was working on ventilators to help treat Covid-19 sufferers.
Mr Cummings quit Downing Street last November after a power struggle.
He is credited with driving through the Vote Leave victory to break away from the EU.
Some see all three front page headlines as a co-ordinated attack on the former adviser.
The strongest attack came in The Times.
A "No 10 source" said:
"Dominic is engaged in systematic leaking.
"We are disappointed about that.
"We are concerned about messages from private WhatsApp groups which had limited circulation.
"The Prime Minister is saddened about what Dom is doing.
"It's undermining the government and the party.
"It might be that Dominic feels bitter about what's happened since he left – but it's a great shame.
"Dyson was trying to do something for the good of the country."
The Telegraph quoted another unnamed source:
"If you join the dots, it looks like it's coming from Dom.
"More than anything, the PM is disappointed and saddened by what Dom has been up to.
"Dom may feel bitter about what's happened since he left.
"Rather than falling apart, the government has been making great progress."