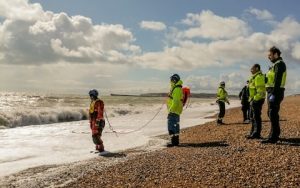 Picture: Sussex Police
A tonne of cocaine worth £1 million on the streets has washed up on two British beaches.
The first load was spotted floating off-shore at Hastings by members of the public.
They called the police who brought the haul – wrapped in oilskins and kept afloat with lifejackets – ashore.
A few hours later a second parcel was found washed up on the beach at Newhaven, about 30 miles from Hastings.
Again, the drugs were brought ashore by police officers and the local coastguard.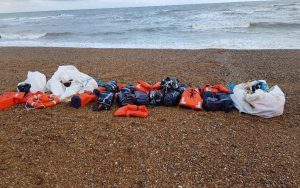 Picture: Sussex Police
A spokesman for Sussex Police said:
"In liaison with the coastguard, and East Sussex Fire and Rescue Service, the packages were recovered and will be tested to determine what they are.
"They are suspected to be class A drugs and have been taken to an undisclosed secure location."
The investigation has now been handed over to the National Crime Agency (NCA).
A police source told the Daily Telegraph:
"This is a huge haul and the fact the shipments were found relatively close to one another within hours would suggest we have got it all, but we cannot be certain there is not more out there floating around.
"The message to anyone who sees anything suspicious or spots any more of these packages is to contact the police immediately."
It's thought the Class A drugs had been shipped from South America to the UK.
The dealers might have heaved the packages overboard to be picked up by others.
Or the crew was spooked and dumped the cocaine before being caught by the law.
Martin Grace, of the NCA, said:
"This is a significant amount of class A drugs which we think originated in South America, but we are keeping an open mind about how the drugs washed up here and where the end destination might have been.
"Clearly though losing a consignment of this size this will represent a significant hit to the criminal networks involved.
"Our investigation is being assisted by both Sussex Police and Border Force and is also likely to involve international partners."